Software Release 25/08/2021
Bookeasy deployed the below changes into the live production system overnight. Should you require further information in regards to any of the below features, please reach out to our friendly Bookeasy Support team who will be more than happy to help.


Improvements & Bug Fixes:
Product Images For Tours & Activities [#16059]
Tour, event and activity operators now have the ability to upload an unlimited number of product images via a brand new interface.
Benefits:
No need to upload an image per session/occurrence. The images uploaded for a product will apply to each occurrence/session
Drag and drop, and/or select one or multiple images to upload at the same time
Easily reorder images
Delete product images one at a time, or delete multiple images at once for a product
Apply optional metadata, such as an image title and description
Maximum file size is 5MB, but will be resized and optimised when uploaded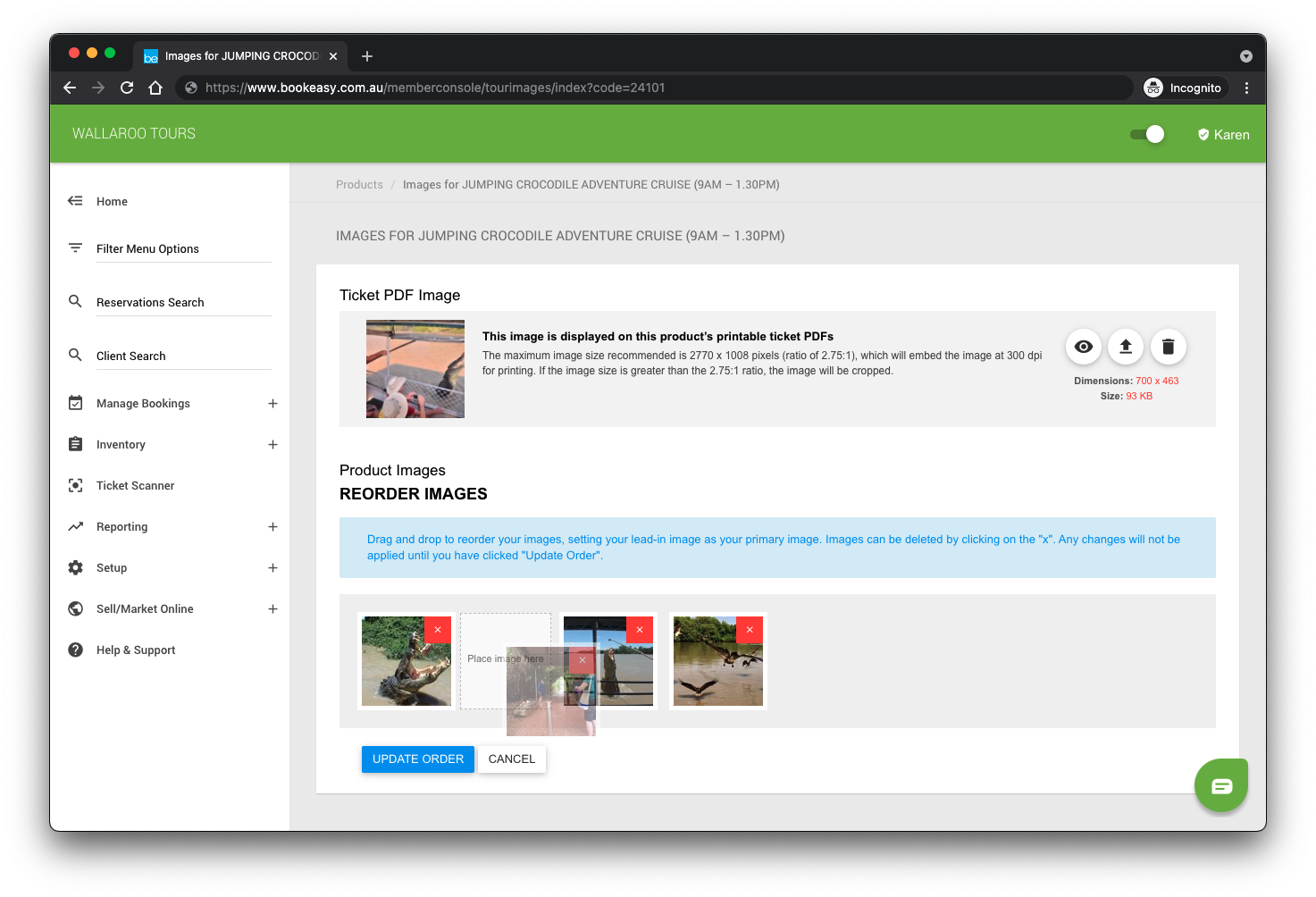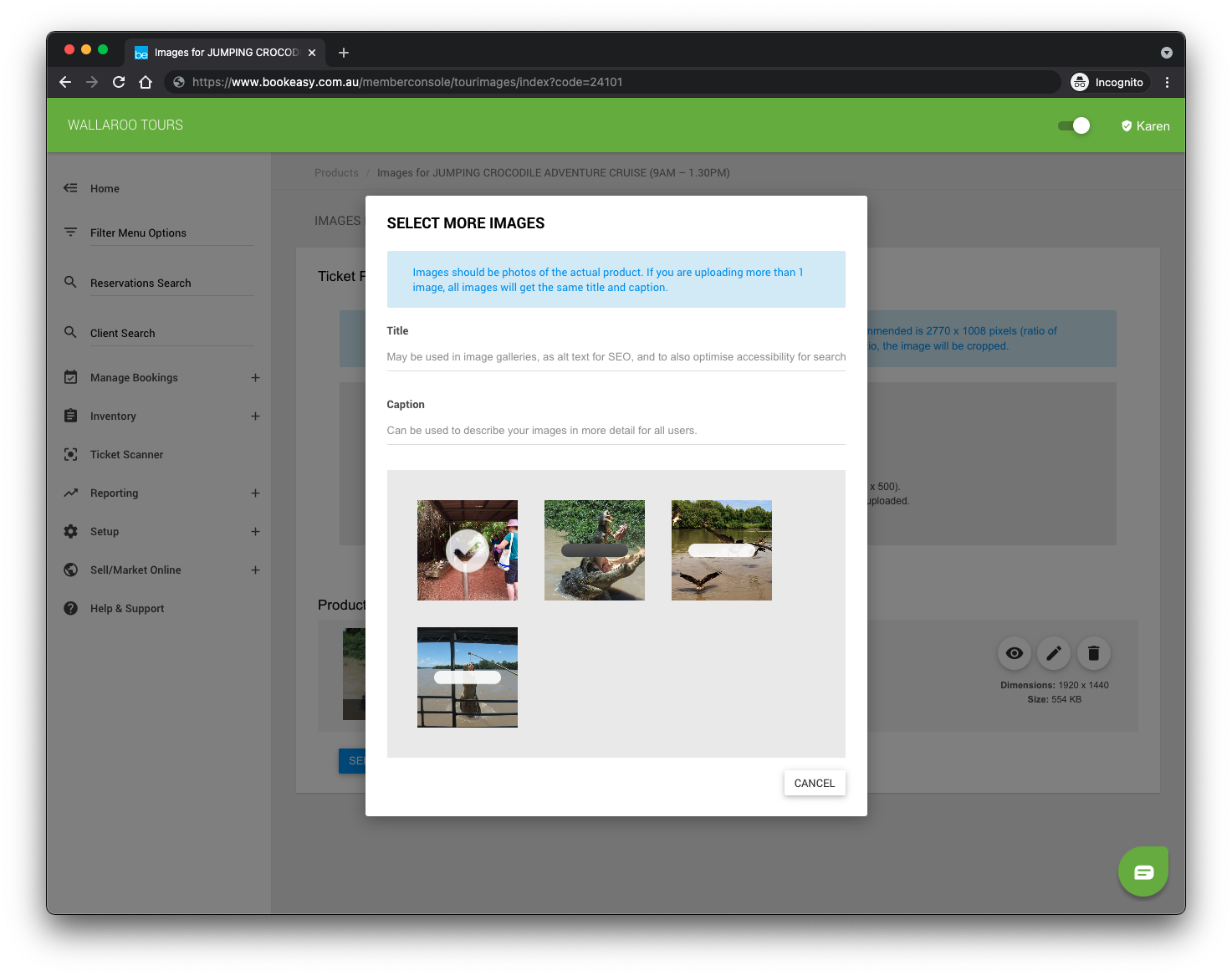 Our image top tips:
We recommended product images to be at least 800px wide or 500px high (the system will let you know if your images are below this)
Always use as many high-quality images as possible to help inspire travellers
Does this upgrade also apply to partner connected tour and activity products?
For partner connected tour and activity products, such as those supplied from FareHarbor, LIVN and Rezdy via our partner connection API, the good news is that multiple tour images are now also supported.
If a partner connected operator has uploaded multiple images for a specific product in their tour management system, we'll import them with the image title set as the product name. This will occur when new products are connected, and/or during a static API refresh (which occurs once per week).
Please note that partner connected operators can only manage (add/delete) their images directly within their own tour management system. They will however be able to reorder and also modify image titles and caption from within their operator console.
---
New Tour & Events Item Details Gadget Product Image Gallery [#16631 #16632 #16692]
A new image carousel has been introduced to the item details gadget for tour and event operators.
Website visitors can now click on the thumbnail image displayed on the item details gadget when viewing an activity operator's product. This will present the product images to the visitor in a carousel, also displaying any image title or caption metadata that has been applied to the uploaded images. In addition, the product's duration will also be displayed, as well as the product description.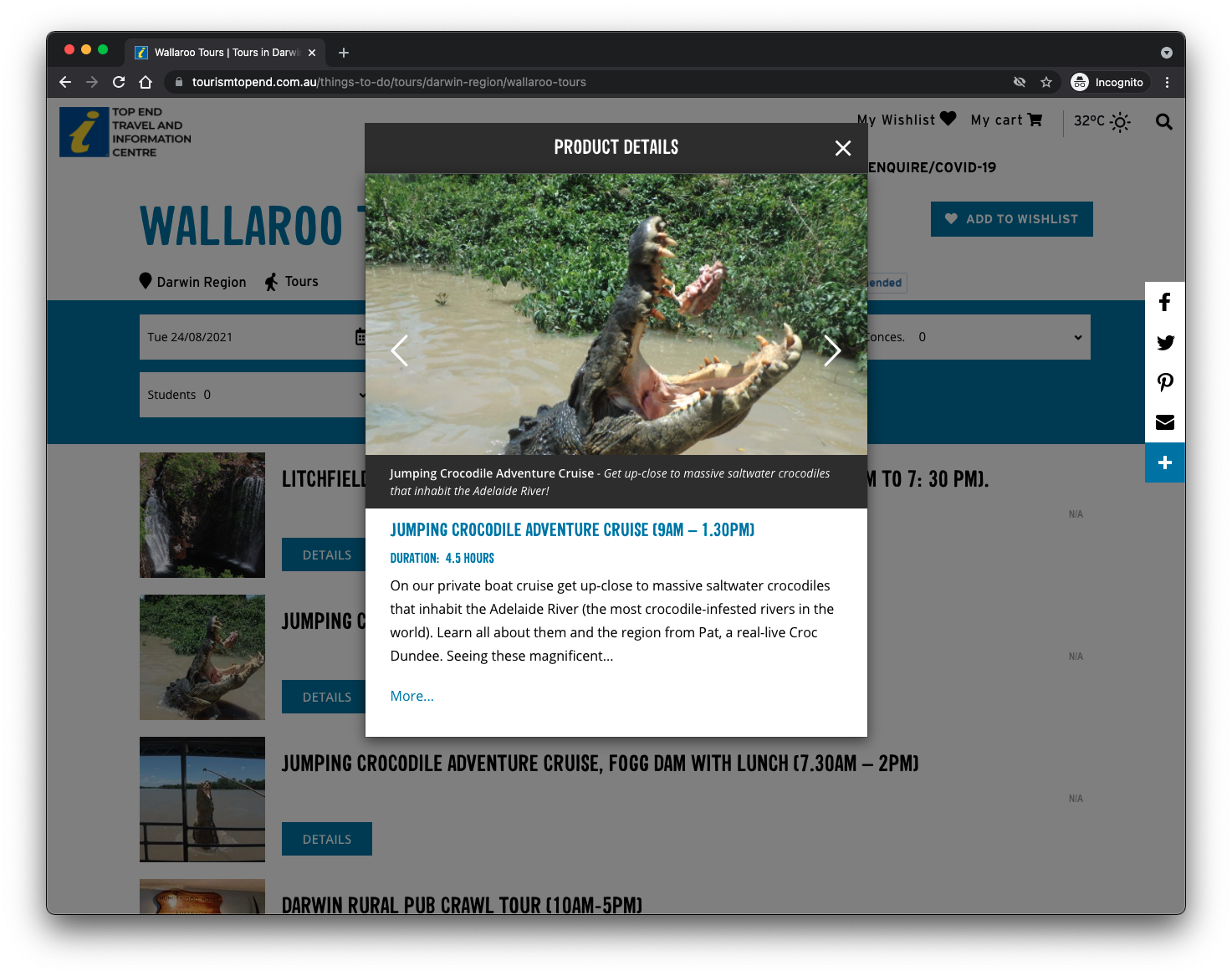 This new feature applies to all destination partner websites who have implemented the beGadgets, including all Operator and Affiliate Booking Engines. Please note that destination partners who have implemented custom javaScript gadget implementations may not benefit from this new feature.
---
New Product Image Galleries for Centre Console [#16707 #16708 #16709]
The Centre (Staff) Console has been upgraded and now provides staff an image gallery lightbox for viewing and displaying accommodation, tour and activity product images to staff and in person visitors.
Centre staff can now click on the thumbnail image displayed for accommodation and activity products when conducting an accommodation or activities search. This will present the product images in a carousel, also displaying any image title or caption metadata that has been applied to the uploaded images.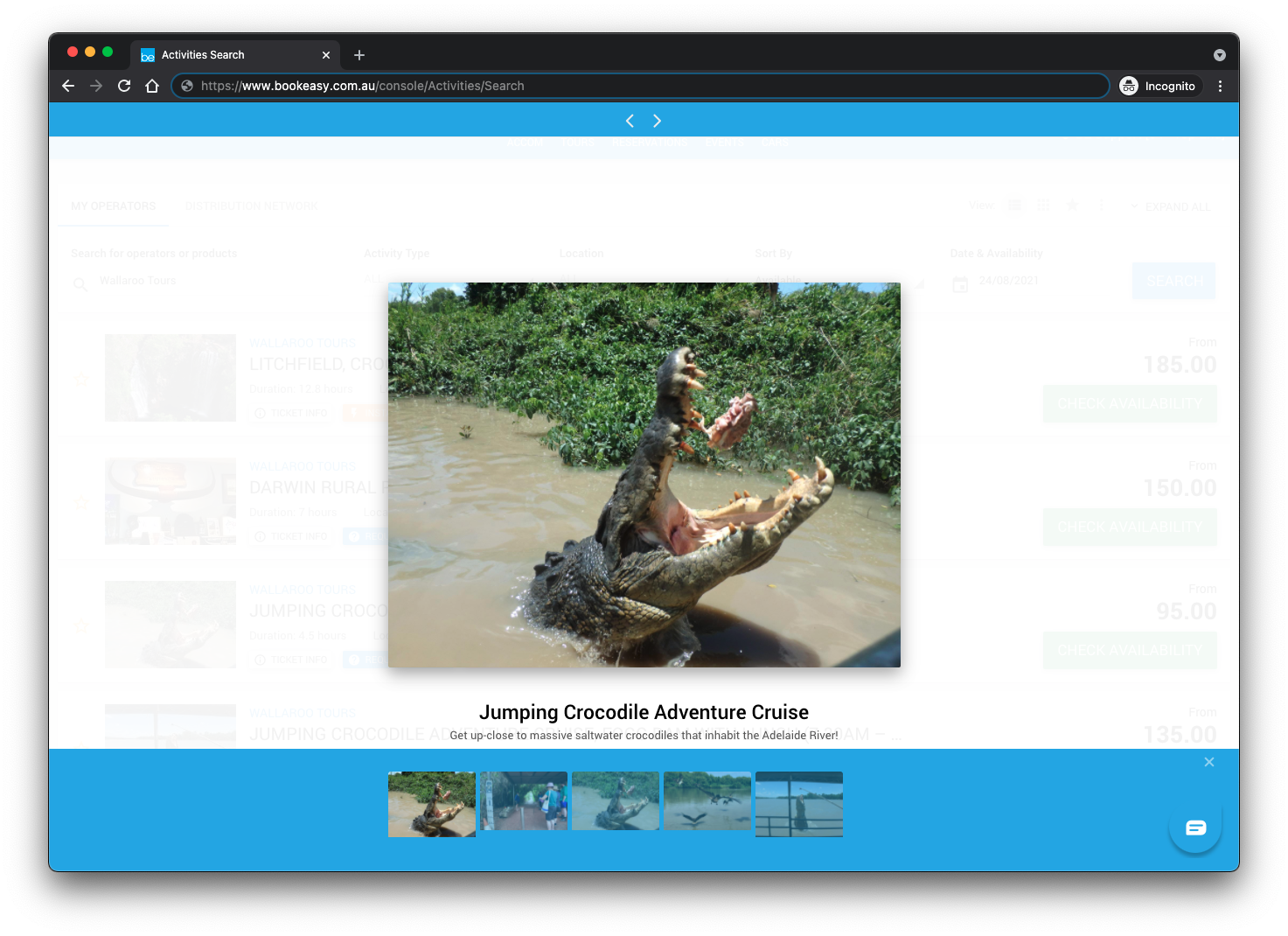 The "Photos" tab on operator and product profile pages now also include a section where you can view and open all images uploaded for a specific product.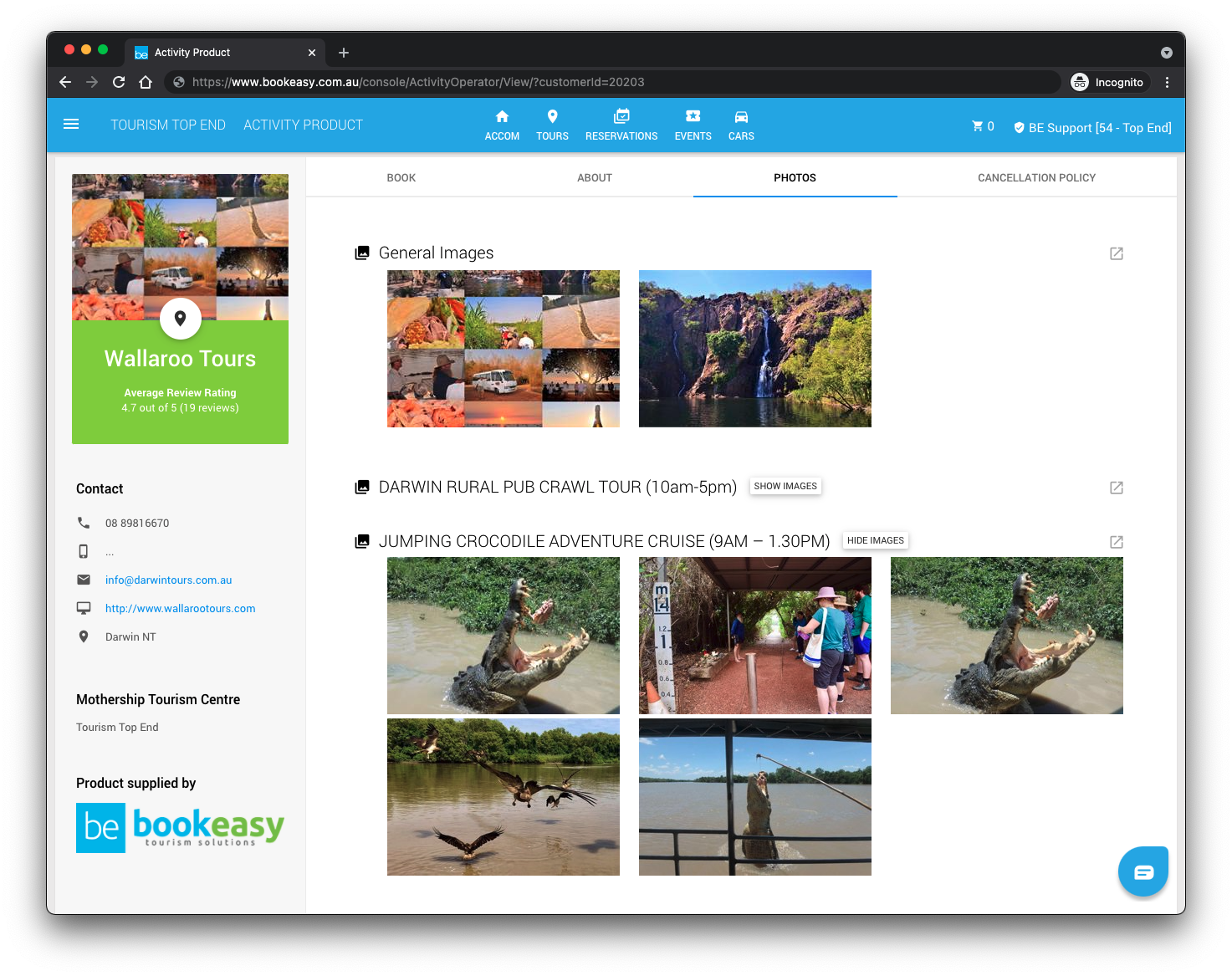 ---
Accommodation Search calendar picker not loading correctly [#16671]
When selecting a date after the location, the calendar picker would keep circling. This will no longer occur.
---
Forbidden Error when clicking the customer name in the BE staff console [#16674]
If the operator is no longer current (active), an error would occur when clicking their name in an operator search or on their name when viewing a booking. Now you are still able to see the operators information regardless if they are active or not.
---
Adding Retail to a Tour Booking Itinerary Not Working as Expected [#16687]
Resolved a bug where adding a retail product to an existing Itinerary would result in an error on checkout.
---
Internal booking question name displaying on gadgets [#16689]
Updated the terminology when configuring Booking Questions in operator consoles, in order to clarify that a Booking Question's name is displayed to guests during the booking process.
---
Trust Monies on Hand returning an error [#16816]
Fixed an issue where accessing the "Trust Monies on Hand" report would return an error.
---
Legacy Credit Card Vault [#16845]
The legacy Credit Card Vault has been removed from the itinerary screen.