Software Release 15/10/2019
Bookeasy successfully released the below changes into the live production system overnight. Should you require further information in regards to any of the below features, please reach out to our friendly Bookeasy Support team who will be more than happy to help.


Improvements:
TOUR & ACTIVITIES PROJECT
The new Tour and Activities booking experience is coming to ALL Bookeasy Staff Consoles in the coming weeks!
CLICK HERE
to review some quick tips on the new search & booking process as we prepare to launch these new features for the benefit of all Bookeasy destination partners.
Further improvements have been made to bring you the best Tour and Activities booking experience.
In this release we've introduced the following functionality:
For each product listed, you can now view availability, select occurrences, select ticket types, obtain live quotes, view product terms and add to cart directly from the Activities Search screen!


The duration displayed on product profile pages has now been properly plugged into the booking flow so that it displays the correct timeframe for each occurrence.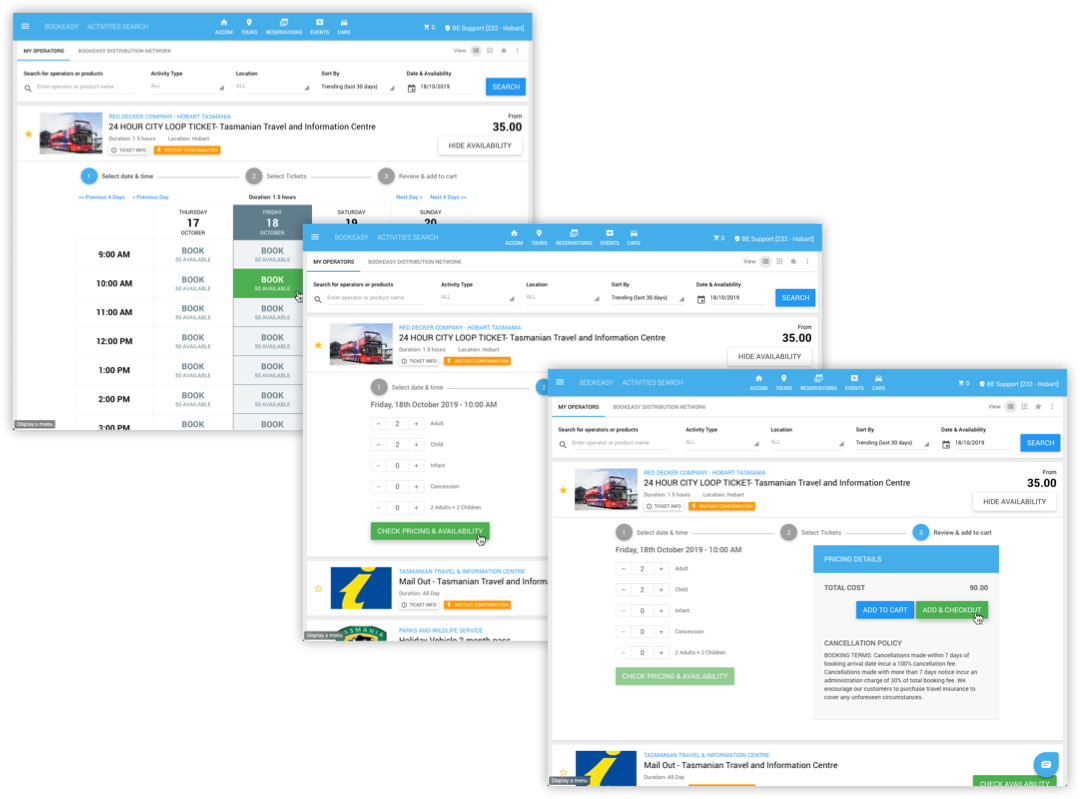 ---
PDF TICKETS, TICKET CAP & TICKET SCANNER FUNCTIONALITY NOW AVAILABLE IN TOUR AND TOUR MANAGER CONSOLES [#13766]
For all beTours and Tour Manager operator consoles, we've gone ahead and plugged in all of the functionality that was previously exclusive to the beTickets console for bookable event operators.
Tour Manager and beTour suppliers can now:
Setup their tour and activity products to include a ticket cap (i.e. the maximum number of tickets that can be sold per purchase).
Arrange for PDF tickets to be sent to guests when bookings are made, paid and confirmed.
Utilise Bookeasy's Ticket Scanner on Android devices, for scanning ticket holders in and out.


---
NEW AFFILIATE BOOKING ENGINE DEFAULT TAB SETTING [#13785]
Upgrades have been made to the Affiliate Booking Engine (ABE) settings whereby affiliates can now set the default tab displayed to customers when they view the booking engine's search results. Affiliates can set the default tab view to either Price view, List view or Map view.
---
YESBOOKIT ACCOMMODATION SUPPLIER CANCELLATION POLICIES [#13845]
Bookeasy has enhanced it's YesBookit partner connection in order to utilise the cancellation policy definitions published on their documentation.
The corresponding cancellation policy definition will now be imported as the accommodation supplier's Bookeasy cancellation policy when they are partner connected as a new operator. Once imported, operators will be able to edit this policy via their Bookeasy Rooms console.
---
---
Bug Fixes:
YesBookit Partner Mapping Errors [#13900]
Squashed a bug that prevented the Bookeasy Support crew from onboarding new YesBookit properties if the property did not supply more than one image.
---
Availability Screen Data Issue [#13708]
Resolved an issue that was preventing an operator from updating availability for select rooms.
---
Bookeasy webAPI getAccomRates Timezone Issue  [#13783]
Resolved an issue whereby no results would be returned via the Bookeasy webAPI if no time was included when a date was specified using getAccomRates API methods. The webAPI will now return results if no time is specified. We've also updated the getAccomRates API documentation so that the expected format is specified for the date parameter.
---
Recording Additional Gateway Payments (Room and Tour Manager) [#13701]
Resolved an issue that prevented stored card details from being removed and additional payments from being made for some Room and Tour Manager clients trying to make additional payments on bookings.
---
Room Manager Reservation Status Colours [#13764]
Resolved an issue that caused some bookings to display as the incorrect status colour, based on the booking's status.