Record Other Payment refers to adding a payment against a reservation/booking that is NOT a gateway payment.  Other payments would include Cash, EFTPOS, Bank Transfers with more options available in the payment type drop down

To record a payment which is not a gateway payment, simply click the Record Other Payment option located at the bottom itinerary screen.

Once in the payment screen, simply choose your payment type using the available drop down, make sure your payment amount is correct and click save payment. The reset button will simply take you back to how the page was set before any changes were made, like an undo button of sorts.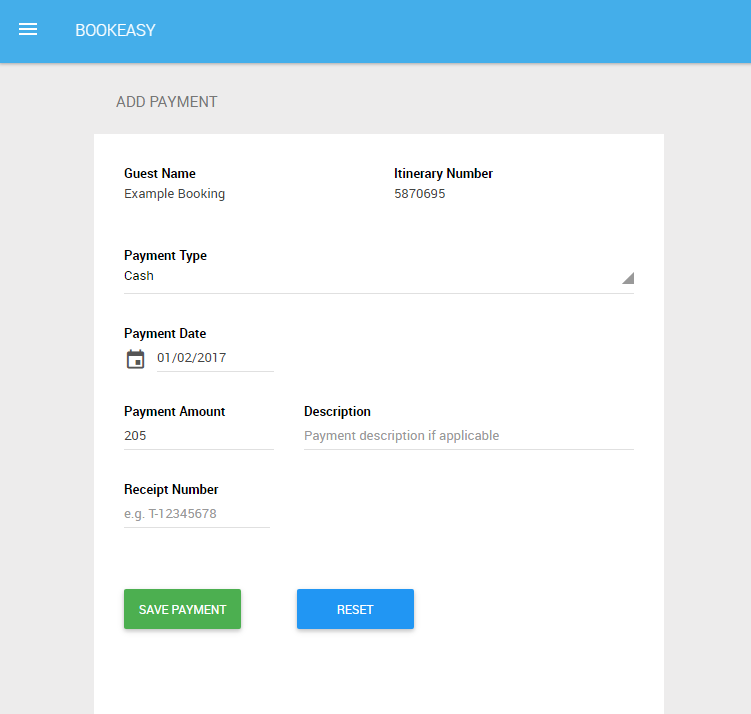 You could also add a description to the payment if you like and a receipt number if applicable.

Top Tips
The payment type drops down is listed with the most common payment types first, then alphabetically.

If you choose gateway from this other payment screen the customer's card WILL NOT be charged. This should only be used in special circumstances and refunds.

You can enter a negative payment (-205) to show a refund against the booking.

If you need to split payments for groups, simply enter the payment amount and add a description of which person in the group that payment belongs to.

If you need to backdate a payment you can simply change the date of the calendar.